Mike Robinson
A fine video game company founded by Mike Robinson.
Very silly things are in the works. For updates follow @mike_robbo on twitter.
Previously Mike was Gameplay programmer on the PS4/PS3/Vita game Hohokum. He spent 9 years as Head of Technical at Zombie Flesh Eaters. Overseeing technical elements of Jamie Hewlett's projects and the Gorillaz campaigns. Creating many of the games and systems found over at gorillaz.com, a project that won many many fine shiny awards, including a Webby and BT Digital Music award. During this time he :
Concepts and Designs for iTunes LP and other digital releases
Produced countless games and sites
Scripted game missions
Consulted on the technical aspects of projects
Contributed to live show visuals
Skills
c++, c#, javascript, php, html/css, actionscript, haxe
Photoshop, Final Cut, Shake, Flash
Friends of Rekim.com
Keep your ears peeled for
Announcing Pool Panic from Adult Swim Games – Coming Soon to Nintendo Switch and Steam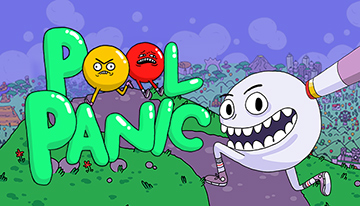 Out Now
Rekim provided Gameplay Development for Hohokum – out now on PS3,PS4 & Vita


KRIZL – Crosswords with a twist is out now on iPhone, iPad, Android & PlayBook!
Game-folio
Here's a selection of Games I've created with the help of the Zombie gang for concept & visuals.
Submatronic

A Box2D submarine game Play

Tiles of the Unexpected

An addictive multi-level tile game

Shooting Range

Gorillaz shooting range game

Russel Says

Russel Says take away edition

Pumpomatic

Hundreds of thousands of pumpkins saved in our online creator

Potato Peeler

The worlds first potato simulator!

2D opperation

Swap 2D's healthy organs over with Murdoc's festering insides

Animal Kwackers

Generate your own taxidermy wonders!

Helly-Drop

Navigate your way back up to Kong

Russel Says

Online version of the symbian mobile game I oversaw

Dirty Harry

A shockwave 3D dune racer, hunt down the kids in the desert

Darts

Get shooting those arrows

Bowlatronic

Shockwave 3D bowling game using havok physics

Apple Bobbing

A custom character skeleton system was made for this game

Murdocs Attache

Cram all your goods into Murdocs Attache
Web-folio
Here's a selection of websites I've created with the help of the Zombie gang for concept & visuals.
Gorillaz

The home of Gorillaz

Monkey

Set designs animate out for each page of the Opera site

Demon Lamp

demonlamp.com

The Clash

Official Clash website www.theclash.com/

Laz Inc

Re design of the laz inc site with a 3D flash gallery www.lazinc.com

McQ

3 different revissions of the Alexander McQueen – McQ site
The latest zone
Mainly non work related nonsense
Latest Blog posts
We are excited to announce Pool Panic! Coming Soon to Nintendo Switch and Steam from Adult Swim Games.
Have you ever wanted to inhabit the brain of a clueless cueball as it traverses a strange world?
Well now's your chance in over 100 levels single player! Or you can challenge your friends to bizzare party play in 2 to 4 player local multiplayer.
Get holding your breath because it's coming! (Don't actually hold your breath).
Read More
Keep an eye for the new Crossword Twisty game coming to iOS and Android!


IE9 came out of beta yesterday and so I checked it out to see if the release candidate had sorted out globalCompositeOperation which could only handle source-over in beta.


Read more.

Read up on the sub physics.
Latest Tweets